Attention less than 1 day to be able to order all the products available for Christmas.
Description
This medal of devotion in matte gold represents St Benedict holding the Abbey cross on one side and the Rule of St Benedict on the reverse. The cross of St Benedict accompanied by a series of letters is on the reverse., initials of messages in Latin.
N D S M D: Non Draco Sit Mihi Dux: I must not be led by the dragon.
C S S M L: Crux Sacra Sit Mihi Lux: The cross shall be my light.
V R S N S M V: Vade Retro Satana, Numquam Suade Mihi Vana: Behind Satan, never tempts me with vanity.
S M Q L I V B : Sunt Mala Quae Libas, Ipse Venenum Bibas : What you offer, that's just evil, swallow your poison.
C S P B : Crux Sancti Patris Benedicti: Holy Father Benedict Cross.
Delivered without a chain.
Yellow gold (18 carats = 750/-): 1.3 g.
+ Measure
Collection Origin
Enhancing valuable materials with simplicity plays a crucial role in our creative work.»
Sarah, Design Director
Why gold and diamond symbolize eternity?
Technical information
Quality is my absolute priority throughout the manufacturing process. Dozens of quality tests are carried out on each jewel»
Laurent, Production Director
Excellence at each step of the manufacturing process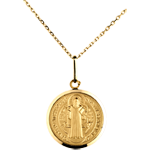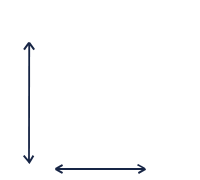 Pattern thickess: 16 mm
Pattern width: 16 mm
Guarantees
Every day I make sure every customer is totally satisfied.»
Sabrina Ouarti, Customer Service Manager
Price
Security and Delivery
Warranty and Returns
"Committed", our vision of respect
Customer and press reviews
>
Customer and press reviews
With over 98% satisfaction and 20 000 orders a year, our customers speak for us.»
Edwin, Managing Director
Customer reviews about this product
OUR COLLECTION PRESS RELEASE
See all press recommendations
This jewel is part of: