Edenly is a brand of gold and diamond jewellery, founded in 2008 in Geneva, and sold exclusively online on our website edenly.com. Thanks to our extensive experience with the greatest French jewellers, as well as in e-commerce, Edenly wants to offer you a new experience in jewellery, based on Expertise, Emotion, and Ethics.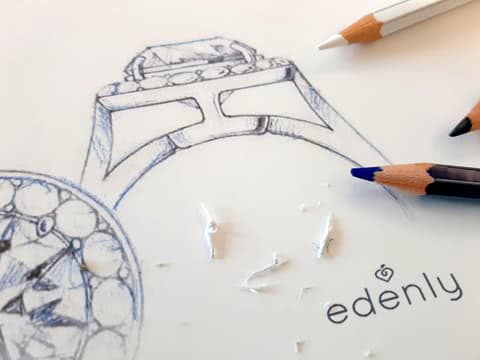 Edenly jeweler's Expertise
Exhibited through the mastery of our profession and in the OUTSTANDING QUALITY of all our jewellery, at Edenly, since we only work with gold and diamond jewellery, we are able to do this all with perfection. Each piece is handmade in our workshop, according to the expert techniques of our Master and Artisan Jewellers, who have been with us from the very beginning. Our jewellery is also subjected to numerous quality tests at each stage of their manufacture, guaranteeing you a perfect piece.

Based on our gold and diamond expertise, we offer a WIDE SELECTION OF STYLES , from the all-time classics and must-haves of jewellery, to more creative and inspiring designs. This diversity of jewellery allows us to make Edenly a universal brand, while providing us the ability to tailor your piece to reflect all your preferences and suit any occasion.

Our know-how is also accompanied by ALL THE POSSIBLE GUARANTEES to allow you a purchase with confidence and confidence: the hallmark and quality of our gold , the ethical origin and the quality criteria of our diamonds , certificate delivery, like all our after-sales service and the possibility of exchange of refund, or resizing free of charge.

Edenly jeweler's Emotion
Expressed through the creation of INSPIRING AND POETIC COLLECTIONS , many of our pieces embody the majestic and classic shapes that harken back to the legendary styles of jewellery, while others are more creative, inspired by the flora and fauna imagery of the Garden of Eden.

Driven by these references to Eden, and reflected in our dreamlike creations, Edenly signifies a universe marked by ROMANCE AND ENCHANTMENT , reminiscent of times sweet, precious, and enchanting.

Our Edenly Emotion also accompanies your most important life moments. From the choice of jewellery, to the declaration or promise it represents, our team will help you every step of the way, guaranteeing you a QUALITY RELATIONSHIP WITH OUR ADVISERS , as well as with OUR BRAND .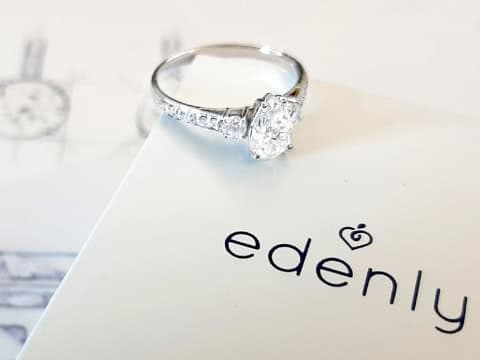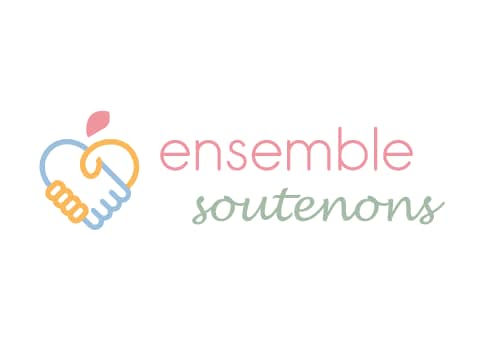 Edenly jeweler's Ethics
Because Eden and its imagery of a harmonious world are written in the DNA of our brand, we give absolute priority to the respect of our environment and our customers. At Edenly, we are committed to PRICES THAT ARE FAIR AND RESPECTFUL, with reasonable margins, to remain a universal brand, accessible to all. Our prices are up to 50% less than in traditional jewellery shops, or on other sites, for identical or even better quality pieces.

Our Edenly Ethics also make us believe in the ABSOLUTE TRANSPARENCY of our profession and where our gold and diamonds come from. We are committed to responsible sourcing: The gold we work with is stamped and certified by customs, and our diamonds comply with the Kimberley Process, which guarantees that these natural stones come from "clean" sources, and not from armed conflict. At Edenly, we are committed to our words, as well as our actions.

Finally, but no less importantly, we have set up the "ENSEMBLE SOUTENONS" (Together, Let's Support) program , which brings together our solidarity efforts since 2017. In line with the world of Eden, these are based around the protection of women and our environment.

The First Boutique, Edenly Paris
It is in the heart of Paris, in the Opéra district -- a stone's throw from Place Vendôme, the cradle of jewellery -- where Edenly has chosen to make our nest and open our first Boutique.

Within a small, green setting, reflecting the bucolic and dreamlike DNA of Edenly, under the arcades of a magnificent glass roof dressed in ivy, is where the brand's iconic pieces are displayed, like precious cuttings.

You'll find must-haves, such as the Enchanted Garden Collection, the Saturn Rings, the Solitaires, and the Precious Nest Trilogies, as well as the timeless pieces of the Origine Collection.

It is like a Garden of Eden come to life, where a wide variety of styles and pieces cohabitate in harmony: From legendary rings -- the great classics of jewellery -- to more creative pieces, which together contribute to the richness of the Edenly collection, making it a universal brand.

Take a fairy-tale walk and enjoy an enchanting interlude when you come to try on your wedding ring, or when choosing your engagement ring, or even come and create your own solitaire with the Edenly Create tool.

After twelve years of exclusive online sales, Edenly's virtual world is now embodied with elegance and poetry to be even closer to our customers.

The Edenly Boutique welcomes you by appointment on site, as well as remotely via video.


Make an appointment*


*Spoken languages: French and English