Order until midnight on December 21st to ensure your delivery before Christmas.
Ring Mysterious Woods - white gold, diamonds and emeralds boats - 18 carats
Description
A sparkling branch fixed in a timeless state, unable to get a measure of its age: millenial or newly crafted. Its precious leaves, the emerald boats, are highlighted by white gold set with brilliants that serve as a craddle.
Boat dimension: 4X2 mm: 0.075 carat.
23 diamonds : 0.132 carat - White gold (18K Gold = 750/-): 2.43 g.
Diamond white : 23 - Emeralds: 3 - Total : 0.225 carat
+ Measure
Why gold and diamond symbolize eternity?
Technical information
Quality is my absolute priority throughout the manufacturing process. Dozens of quality tests are carried out on each jewel»
Laurent, Production Director
Excellence at each step of the manufacturing process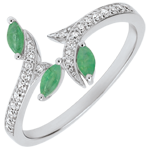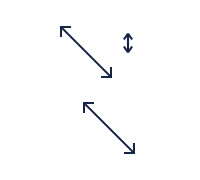 Top width: 13 mm
Top thickness: 3 mm
Bottom width: 2 mm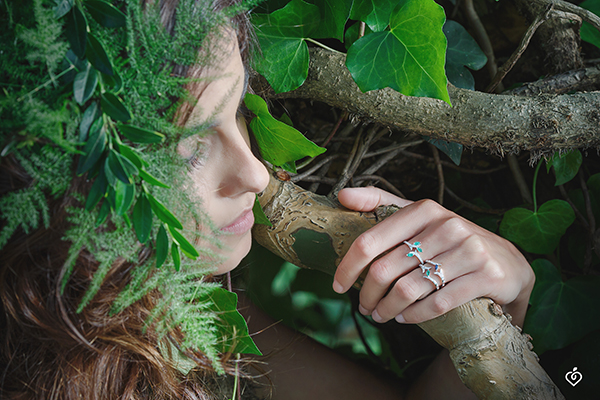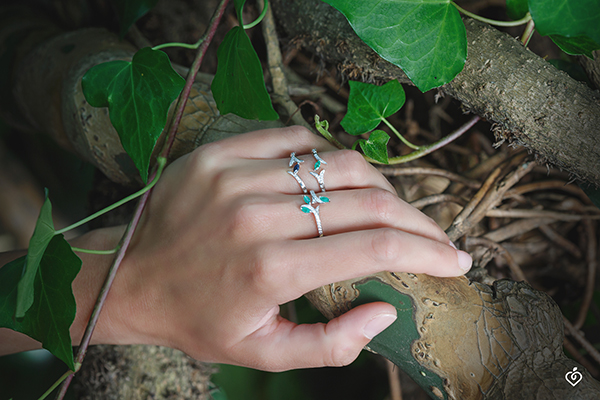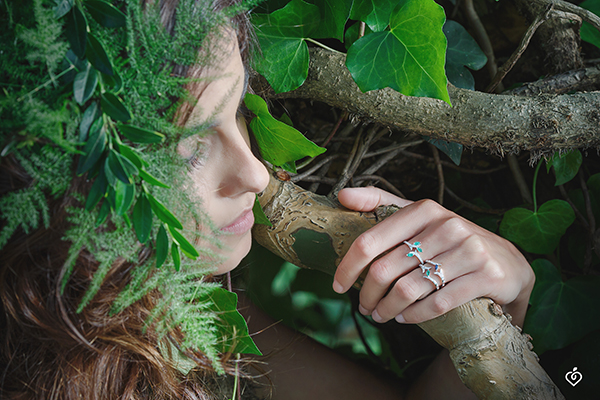 Customer reviews (22)
With over 98% satisfaction and 40 000 orders a year, our customers speak for us.»
Edwin, Manager director
Customer reviews about this product
| | |
| --- | --- |
| YannickRoyston | « Gorgeous ring. It is always difficult to buy such a thing online but it was as described. I (and she) love it. » |
| Lois VíctorMajadahonda | « Muy bonita y justo lo que esperaba » |
| GioelePrato | « È meraviglioso » |
| MarcoLaconi | « Ben fatto, e molto particolare » |
| ChantalMarseille | « Ma bague est magnifique » |
| VincentBruxelles | « Elle l'a adoré et tout le monde trouve la bague vraiment très belle. C'est l'essentiel. La taille 54 était bien la bonne pour finir. Je vous remercie pour le service 'chat' très utile. Pour ma part, j'ai trouvé la bague magnifique également. Le seul petit bémol, sur votre photo les saphirs reflètent un bleu magique (j'imagine dû à un éclairage très puissant) alors qu'en vrai, même au soleil ils restent très sombres bleu/noir. Cela est tout simplement dû aux attaches des saphirs qui empêchent la lumière de passer correctement. Mais bon j'imagine que tout cela est la cause d'une assurance de solidité et de maintient de la pierre. Mais malgré cela je suis satisfait du bijou reçu. » |
| JohannVaureal | « ils sont jolis » |
| ReginaExloo | « Prachtig heel mooi en kundig gemaakt!Veel plezier van! » |
+ reviews of this model
Mask reviews
Guarantees
Every day, I make sure every customer is totally satisfied.»
Sabrina, Customer Service Manager
Price
Security and Delivery
Warranty and Returns
"Committed", our vision of respect