All our BLACK FRIDAY offers are already available | Right of return extended to january 14th 2022.
Eclosion Bracelet - Roses Crown - sapphires - 9 carat white gold
Description
A delicate bracelet of sparkling flowers whose petals open up to show an eternal sapphire heart. This bracelet chain is great for casual wear.
Bracelet with adjustable length: 17 cm, 16 cm, 15 cm. Motif is 5mm long by 5mm high.
White gold (9K Gold = 375/-): 1.05 g.
Blue Sapphire : 3 - Total : 0.03 carat
+ Measure
Why gold and diamond symbolize eternity?
Technical information
Quality is my absolute priority throughout the manufacturing process. Dozens of quality tests are carried out on each jewel»
Laurent, Production Director
Excellence at each step of the manufacturing process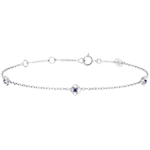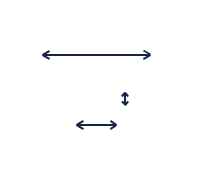 Customer reviews (41)
With over 98% satisfaction and 40 000 orders a year, our customers speak for us.»
Edwin, Managing Director
Customer reviews about this product
| | |
| --- | --- |
| DavidCleveland | « She thought it was perfect. » |
| NeliusEmyvale, | « She was very happy with her bracelet and is wearing it every day. » |
| AndrewBrackley | « She thought it was beautiful » |
| ThierryGerardmer | « Parfait très joli » |
| ErickUtrecht | « Perfect » |
| Véronique Sorgues | « Il est conforme à mes souhaits » |
| CynthiaLe Mont-sur-lausanne | « magnifique bracelet avec 3 diamants posé sur des roses !! très bonne qualité !! et surtout à ma taille de poignet qui est de 14.5 cm très rare je suis très contente de mon achat » |
| ValerianSaarbrücken | « Sehr gut » |
+ reviews of this model
Mask opinions
Guarantees
Every day I make sure every customer is totally satisfied.»
Sabrina, Customer Service Manager
Price
Security and Delivery
Warranty and Returns
"Committed", our vision of respect