Gold For Every Occasion
You will only find
18 carat
gold
on the Edenly site.
We offer you a large range of
gold
diamond jewellery
. For any
present
or surprise,
gold
is guranteed to make a
unique gift
.
Gold is the second metal known to man, and has been used since the fifth century B.C. Gold served generally as the
finery
of the powerful and in religious ceremonies. The incorporation of
gold
into the worshipped icon of the sun is one of the most powerful religious images. The "carat" system was invented in the fourteenth century in England, to allow its usage in the world of business.
Abiding by French legislation, we use an
18 carat
gold alloy which contains 75% pure gold. Pure gold being 24 carats, this means that in 24g of alloy there is 18g of pure gold. The mix with other metals determines the colour of the
gold
, whether it be yellow, white or pink.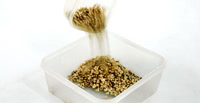 White Gold
If you prefer
white gold
, we offer our
white gold jewellery
and white
gold and diamond jewellery
. White gold is made up of 75% pure
gold
, silver, copper and palladium. 



Yellow Gold
For yellow
gold
, we have a range of
bracelets
,
necklaces
,
earrings
and
rings
to buy online. Yellow gold is made up of 75% pure
gold
, 12.5% silver and 12.5% copper, in order to obtain the best colour and mechanical properties.



Pink Gold
Pink
gold
, whether alone or in combination is an original touch for your
gold jewellery
. Pink gold is made up of 75% pure
gold
, 5% silver and 20% copper which gives it its colour.



Multiple Golds
We also offer you
jewellery
in two or three
gold
s for your
wedding
rings
,
engagement rings
, and for those moments that you which to commemorate in an exceptional manner. 



Learn about
how to invest money
here. This site is listed under
Jewelry Directory
.