Christmas presents for a successful Christmas, with scintillating jewellery in gold and diamonds.
An Original Christmas Gift

Christmas: 
It is the time to spoil your loved ones by giving them presents. You want each party to be a moment to share and be happy.

As a Chistmas gift for a woman, think of gold and diamond jewellery.








Heart Gifts
As Christmas is a celebration of love, tell them "I love you" with a piece of our heart jewellery.







Whether she likes rings, necklaces, bracelets or earrings, with Edenly you have the chance to find the gold and diamond jewellery that she will love.







The joy of sharing remains long after Christmas has gone, the memories of happy moments spent with the people you love, as do your gifts, like the jewellery she will wear, making her happy for a long time after Christmas day.

A Gift In A Case
Your jewellery will be sent to you in a sublime case, which will give her all the joy and the happiness she deserves when she opens it at Christmas.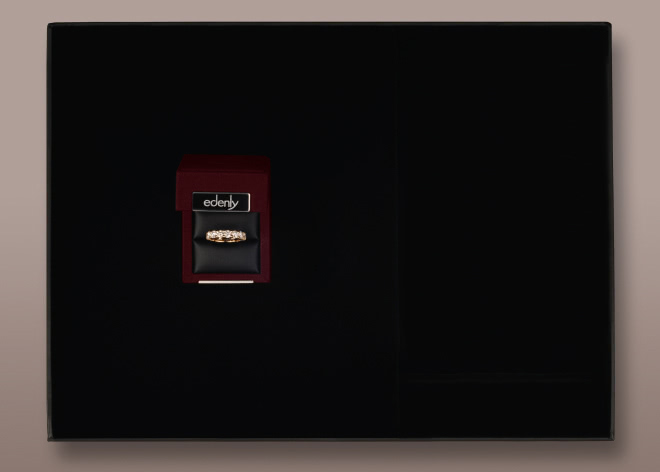 What To Offer At Christmas?

Struggling for a Gift Idea?
If you do not know which Christmas gift will make her the happiest, offer her our Christmas gift box, the Edenly Diamonds Box, which will show your careful thought and let her make the choice.






To help you make the right choice of Christmas jewellery, our guides can advise you to find the Christmas gift of her dreams.
Necklace Guide
Ring Guide
Bracelet Guide
The History of Christmas

Originally, Christmas was a pagan celebration that marked the winter solstice, and was taken over by the Catholic church.
The word Christmas is the compound of "Christ's mass". It comes from the Old English "Christes Maesse", a name first recorded in 1038. Christmas celebrates the birth of Jesus of Nazareth every year, with the so-called "Nativity".
Christmas Gifts

For Christians, Christmas presents are a representation of the gifts offered to the infant Jesus by the three wise men: gold, frankincense and myrrh. The tradition of giving presents has also taken hold outside of a Christian context. These days Christmas is above all about renewing social links, particularly amongst a family that is spread out over a country, or even the world.