Discover the Edenly team: experts passionate about their work in
diamond
jewellery, who put all their know-how and service at your disposal.
Our Team: Experts Passionate About Their Work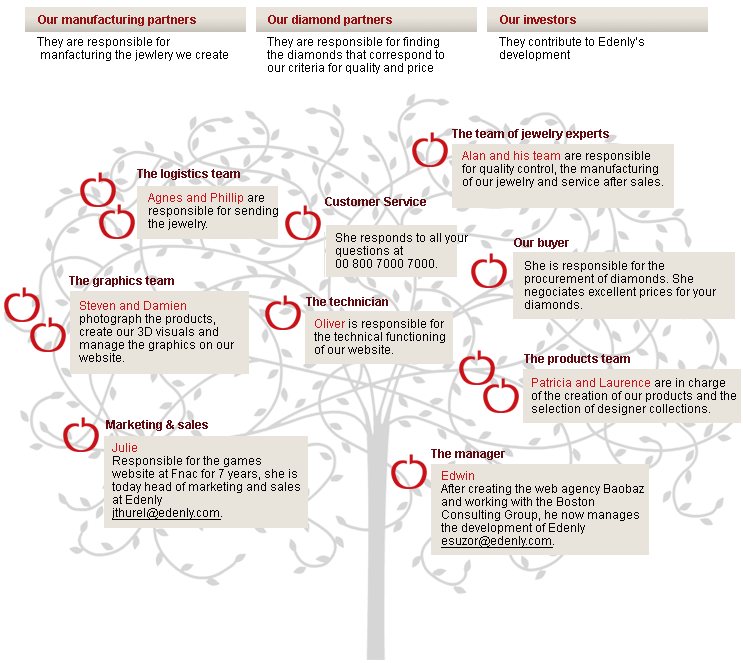 Our values
Pioneering ideas


Thanks to new technology and the creativity of our team, we offer you a new approach to jewellery making. Our site offers:

- An online creation tool to design jewellery: easy to use, it will allow you to create your ring with a few clicks. Design diamond jewellery

- An exclusive search engine: answer just a few questions to find the right jewellery for her: Jewellery Gift.

- Original concepts: The Diamonds Box is a jewellery case containing 30 different items of jewellery. It allows you to save yourself from making a difficult choice because it is she who will choose the jewellery of her preference from the case you give to her. Jewellery Gift Box.

- Innovative and practical services to facilitate your purchase:
*The 3D images of jewellery allow you to see them from all angles.
*The Edenly magnifying glass: to zoom in even more and allow you to see the most minute details on the jewellery.
*The Interactive List of Jewellery Gifts : not sure about your choice? Create a Gift List to send to your friends: they will be able to leave their comments. And if you still have no idea, we offer you the possibility to send her a request to create her own Gift List to send back to you.   
* The face to face: a fun and useful tool that allows you to vote for your favourite jewellery and thus help other internet buyers to make their decision.
Efficiency


We have created an efficient organisation that allows us to: 

- keep prices low by buying our stones directly from manufacturers and diamond makers and by making our own jewellery. We thus have no intermediary, which allows us to offer prices lower than the competition.

- offer impeccable service: our representatives are available to answer any of your questions (Contact us) and you can track your order at any moment online. Finally, as proof of our efficiency, we commit ourselves to providing the following guarantees :
1. Delivery on the expected date indicated online. In case of delay, you receive a gift certificate for 30€.
2. Exchange or refund during 30 days after delivery of your jewellery. 
Contact Us
Customer Service


Do you have a question on an item of jewellery or your order? Contact us at 0800 915 026 Monday to Friday from 9 am to 12 pm and 2 pm to 6 pm (freephone).

Partners 


Would you like to become a partner with Edenly? Send us your proposal by email [email protected].

Press relations


Would you like information about Edenly? Send us an email at [email protected].

Recruitment 


Are you passionate about the world of online jewellery? Send your CV and a covering letter by email to [email protected].