All our BLACK FRIDAY offers are already available | Right of return extended to january 14th 2022.
Salty Flower Ring - double row - diamonds - 18 carat pink and white gold
Description
A ring of white gold set with diamonds is combined with a ring of beads in pink gold for a delicate duo. A feminine alliance which is both classic and original.
13 diamonds : 0.052 carat - White and Pink Gold (18K Gold = 750/-): 2.6 g.
+ Measure
Why gold and diamond symbolize eternity?
Technical information
Quality is my absolute priority throughout the manufacturing process. Dozens of quality tests are carried out on each jewel»
Laurent, Production Director
Excellence at each step of the manufacturing process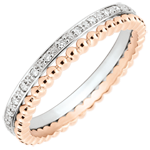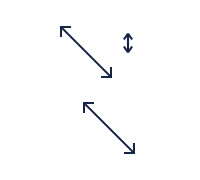 Top width: 3 mm
Top thickness: 1.4 mm
Bottom width: 3 mm
Customer reviews (39)
With over 98% satisfaction and 40 000 orders a year, our customers speak for us.»
Edwin, Managing Director
Customer reviews about this product
| | |
| --- | --- |
| MahaMiddelburg | « great item , the glue wasn't so sturdy but ok » |
| MahaMiddelburg | « great item » |
| Nathalie Curzon | « SUPER - TRES CONTENTE DE MON ACHATTAILLE DE BAGUE PILE POIL » |
| SebastienPlouzané | « Parfait » |
| ElenaSan Giuliano Milanese | « Gioiello molto fine, di ottima fattura e curato nei minimi particolari. » |
| JodieSaint Savin | « Que de compliments sur ma bague. J'espérais une largeur plus grosse d'après les caractéristiques données sur le site mais au final je suis contente car la bague reste plus fine que celle que j'ai à côté donc ne denature pas. Je suis ravie! » |
| SabineWien | « er ist wunderschön und mein perfekter Ehering » |
| Julia Beselich | « Entspricht meinen Erwartungen » |
+ reviews of this model
Mask opinions
Guarantees
Every day I make sure every customer is totally satisfied.»
Sabrina, Customer Service Manager
Price
Security and Delivery
Warranty and Returns
"Committed", our vision of respect