Attention less than 2 days to be able to order all the products available for Christmas.
Description
A solitaire diamond is supported by two rows of golden pearls framing a diamond ring. A 3 golds ring that imposes its brilliant and elegant femininity.
19 diamonds : 0.378 carat - central diamond : 0.18 carat - Three golds (18K Gold = 750/-): 4.37 g.
+ Measure
Collection Salty Flower
This collection awakens in me a whole universe of fancy dreams.»
Sarah, Design Director
Why gold and diamond symbolize eternity?
Technical information
Quality is my absolute priority throughout the manufacturing process. Dozens of quality tests are carried out on each jewel»
Laurent, Production Director
Excellence at each step of the manufacturing process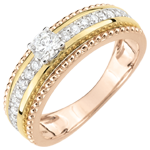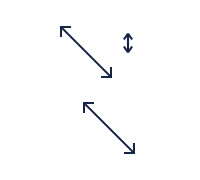 Top width: 6 mm
Top thickness: 5 mm
Bottom width: 3 mm
Guarantees
Every day I make sure every customer is totally satisfied.»
Sabrina Ouarti, Customer Service Manager
Price
Security and Delivery
Warranty and Returns
"Committed", our vision of respect
Customer and press reviews
>
Customer and press reviews
With over 98% satisfaction and 20 000 orders a year, our customers speak for us.»
Edwin, Managing Director
Customer reviews about this product
Tout simplement parfait

Philippe, San Nicolao

Elle a aimé... Pas déçu du produit , conforme a la commande

Ali, Tremblay En France

Très bien, il est très apprécié, il apporte bonheur et joie

Pierre, Gif Sur Yvette
PICTURES OF WORN JEWELLERY FROM THE COLLECTION ON INSTAGRAM
@edenly_jewellery