All our BLACK FRIDAY offers are already available | Right of return extended to january 14th 2022.
Bracelet Genesis - Rough Diamonds - Rose Gold - 18 carat
Description
Inspired by the shape of a rough diamond, these precious pyramids, one facet wearing a diamond are stylish and modern. Bracelet adjustable in length: 18cm, 17cm, 16cm. Pattern 5mm in length and 5mm in height.
White and Pink Gold (18K Gold = 750/-): 2 g.
+ Measure
Why gold and diamond symbolize eternity?
Technical information
Quality is my absolute priority throughout the manufacturing process. Dozens of quality tests are carried out on each jewel»
Laurent, Production Director
Excellence at each step of the manufacturing process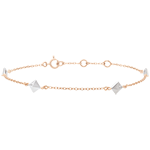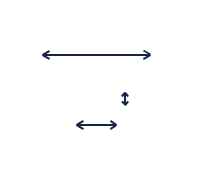 Customer reviews (7)
With over 98% satisfaction and 40 000 orders a year, our customers speak for us.»
Edwin, Managing Director
Customer reviews about this product
| | |
| --- | --- |
| ProuilleAlfortville | « Très jolis bracelets fins, élégants, qui subliment le poignet, on peut les porter ensemble ou séparément, ou un à chaque poignet... » |
| WaltrautElmenhorst/lichtenhagen | « Ich habe ihn verschenkt und große Freude damit ausgelöst. » |
| AloisWien | « Total zufrieden » |
| Kim Teng Bürmoos | « Passt hervorragend und sieht auch gut aus! » |
| JulieMonistrol Sur Loire | « Très joli fidèle a la photo je suis ravie de cet achat » |
| BouletWavre | « magnifique c est vraiment le bijou que je voulais merci :-) » |
| EmmanuelleVeneux Les Sablons | « Très beau bracelet adapté pour les 20 ans de ma fille, bijou raffiné. » |
+ reviews of this model
Mask opinions
Guarantees
Every day I make sure every customer is totally satisfied.»
Sabrina, Customer Service Manager
Price
Security and Delivery
Warranty and Returns
"Committed", our vision of respect