Certified high quality gold
Edenly gold is certified by customs and stamped which ensures that it meets the norms and is mercury-free. High standards are imposed on our suppliers and the latter are subject to regular checks.
Various hallmarks can be applied to our jewellery:
- The master hallmark - this certifies the origin of the jeweller's workshop responsible for production (in our case, the Edenly apple).
- The gold hallmark - 375 or 750 inscriptions specifying the type of gold alloy used.
- The guaranteed hallmark - an official customs certification confirming that the gold is of the advertised quality. This hallmark is only legally required for jewellery weighing more than 3g.
o It is characterised by an eagle's head for 18K gold or a trefoil for 9K gold.
o There are exceptions and exemptions recorded in an official booklet for jewellery where the hallmark would represent a risk of deterioration (e.g. very thin bracelets).
In terms of positioning, the master, gold titling and customs hallmarks are normally placed where the jewellery allows. This is usually on the inside of a ring (in some cases the hallmarks may be on the outside of the ring), near the clasps of necklaces or bracelets and on the clasp of earrings.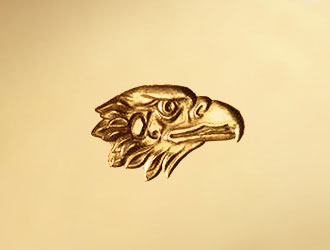 To know more about the difference between 9 or 18-carat gold