Right of return extended to january 14th 2022.
Chrism Medal - 18mm - 9 carats
Description
The background of this chrism medal is hammered to highlight patterns in relief. This chrism is the monogram of Christ, comprising a superimposed X and P. The alpha and omega on both sides symbolize completeness: the beginning and the end.
Delivered without a chain.
Yellow gold (9 carats = 375/-): 1.77 g.
+ Measure
Why gold and diamond symbolize eternity?
Technical information
Quality is my absolute priority throughout the manufacturing process. Dozens of quality tests are carried out on each jewel»
Laurent, Production Director
Excellence at each step of the manufacturing process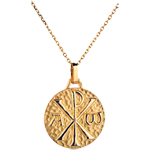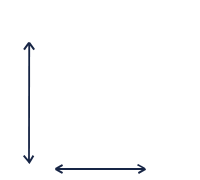 Pattern thickess: 18 mm
Pattern width: 18 mm
Customer reviews
With over 98% satisfaction and 40 000 orders a year, our customers speak for us.»
Edwin, Manager director
Customer reviews about this product
| | |
| --- | --- |
| Marie Hélène Cholet | « Beau bijou correspondant à mon attente » |
| ClémenceLisboa | « Exactement ce que je cherchais! » |
| MechthildHerford | « Das Schmuckstück ist suuuper schön » |
Guarantees
Every day, I make sure every customer is totally satisfied.»
Sabrina, Customer Service Manager
Price
Security and Delivery
Warranty and Returns
"Committed", our vision of respect