Brand feature: edenly, the rising
online jewellers
.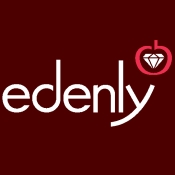 edenly is an online seller of exclusively gold and diamond jewellery. edenly primarily offers classic gold and diamond jewellery.
The personality of edenly:
edenly is the gold diamond jewellery brand that transports you straight into its world upon your arrival on the home page. Its personality, floats between the urban and the fairytale, it is impossible to resist being moved by its magic visuals.
The jewellery boutique is above all, a univerise of feelings and emotions, you find this emotion on en.edenly.com thanks to the fairytale journey